Corporate & Bulk Office Accessory Orders
At Prestige Office Accessories, we have decades of experience working with corporations to fill large, bulk orders of customized luxury office accessories. Whether you are involved in the design of a new build that has hundreds of rooms to be accessorized, or are just redesigning your company conference room, our experts will work with you to turn your vision into a reality.
With fully customizable options, you will be able to create a collection of office accessories that represent your business, from countless color options to textures ranging from traditional to trendy, and even logo embossing.
Steps To Corporate & Bulk Office Accessory Ordering

1. Determine What Products You Need and How Many
We offer all of the office accessories necessary to pull an entire room or building together. From complete conference sets to desk pads of all sizes, coasters, wastebaskets, and everything in between, there won't be one area left incomplete or unrepresentative of your business.
Working with corporations to fill bulk orders is one of our areas of specialty – you can rest assured knowing that every step of the process will be smooth and seamless from your initial conversation with us until you are the happy owner of your new office accessories and thereafter should you have any questions or concerns about your products.
2. Choose a Texture
No matter what look you are aiming to accomplish or budget you have in mind, there is a material available to suit it perfectly. Choose from the traditional and sophisticated classic leather, to the still elegant but more affordable faux leather options. No matter which material you choose, you can always be assured that you will be receiving products made of the highest quality and durability to last in your office for years to come.

3. Choose Colors
Match your office accessories to your company colors exactly or simply encompass the theme through the colors you choose. From natural and earthy shades to completely traditional and bold colors that pop, there's something to suit the style of every office. No matter what industry you're in, our office accessories can be customized to fit it!
4. Logo Embossing Or Any Other Specific Customizations?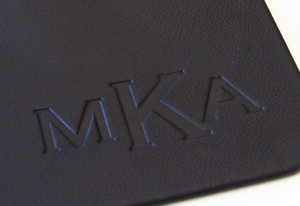 At this point, you might be ready to place your bulk order or customize further. If you're interested in adding a logo to any or all of your office accessories, you can do so easily by uploading a high quality image in the submission form below, following these guidelines:
Accpted Vector Graphic Image Formats
Adobe Illustrator files: .ai
Encapsulated PostScript: .eps
Scalable Vector Graphics: .svg
Accepted Bitmap (PIXEL-BASED) Image Formats
Tagged Image Files: .tif
Portable Document Format: .pdf
PhotoShop Document: .psd
5. Submit a Quote!
Ready to submit a quote for your bulk order of office accessories? Simply fill out the form below and we'll get back to you as soon as possible to get your redesign process moving along. If you have any other questions or concerns before submitting a quote or would prefer to place the request over the phone, feel free to call us at 877-337-5723.
"*" indicates required fields