Custom Options and Materials
Let Your Personal Brand Shine
Here at Prestige Office Accessories, we take your work as seriously as you do.
That's why we offer custom options featuring logo embossing, multiple color and style options, and more.
Logo Embossing
With a wide array of products, styles, and endless combinations to choose from, Prestige provides your brand with the resources it needs to make a lasting impression. Whatever you have in mind for your brand, we can make it happen.
PROVIDE US WITH HIGH QUALITY IMAGE, AND WE'LL DO THE REST.
We use your image to create a tooling die that can be used to emboss the image on your selected products
These guidelines are for embossing linoleum or leather desk pads and accessories.
Accepted Vector Graphic Image Formats:
Adobe Illustrator files: .ai
Encapsulated PostScript: .eps
Scalable Vector Graphics: .svg
Accepted Bitmap (PIXEL-BASED) Image Formats:
Tagged Image Files: .tif
Portable Document Format: .pdf
PhotoShop Document: .psd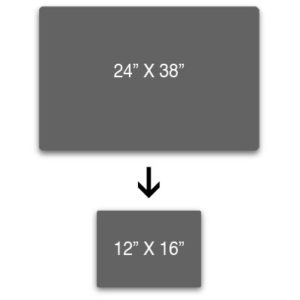 While we can manufacture desk pads in any size that a customer desires. We offer the following standard sizes on most pads:
12×16, 19×24,
12×18, 20×34,
16×20, 24×36,
17×22, 18×24,
and 24×38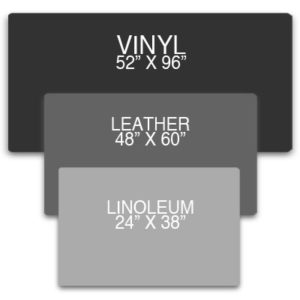 We can make desk pads in almost any size or shape. Our one-piece pads are limited by the sizes of the raw materials that we use.  However, we can easily fabricate two-piece desk pads to accommodate L shaped desks, oversized desks, or desks with curves in them.  One piece limits: Vinyl: 52″x 96″, Leather: 48″x 60″, and Linoleum: 24″x 38″.
Get In Touch
Have a set plan, or need help developing an idea?
Get in touch to learn more about our customization options and see if we have the perfect fit for you!
"*" indicates required fields