It is no secret that a clean and appealing environment positively impacts productivity and creativity. A desk is a foundational part of daily routine. Whether it be for school, work, or home use, a desk is where the routine of your workflow is born. Any desk activity from writing, computer work, to homework will always benefit from enhanced organization and unification of the work area. With leather, vinyl, and linoleum desk pads, Prestige has a wide array of options to suit all styles, functionality, and budget requirements. The following is a helpful user guide to finding the right desk pad for each individual.
Style
A leather desk pad is ideal for anyone looking to add an element of sleek professionality to their workspace. Crafted using only 100% pure top grain natural leather, these desk pads represent elegance and sophistication. Due to our use of only natural materials, each desk pad is a guaranteed unique piece with slight variations in the grain and texture of each. We offer the following styles of leather:
Classic leather
Distressed leather
Glazed leather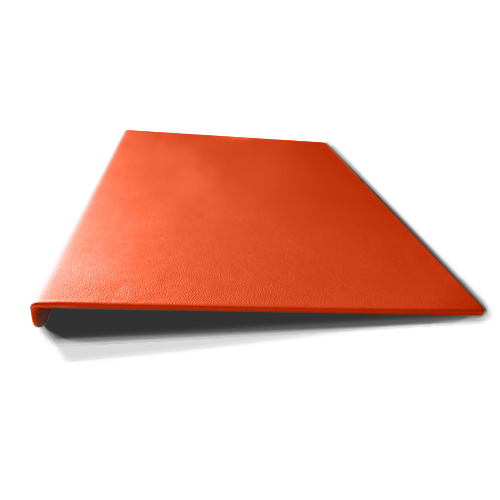 Functionality
One of the greatest benefits of a leather desk pad is its comfort. Providing any user with a squishy, cloud-like experience, leather is the ideal choice for optimal comfort during a long workday or focused study session. Not only do they provide a level of ease to your workflow, but they also protect the surface you work on. Any kind of computer work can potentially scratch or cause harm to your work surface. Leather desk pads are the perfect solution, featuring their faux suede, no-slip bottom lining which holds the pad in place.
Budget
Our most elegant material, leather desk pads represent the highest quality and durability due to the materials used. Offering the highest degree of sleek professionality, leather desk pads are well worth the investment.
Style
If you are looking to add sleek organization and efficiency to your workspace within a limited budget, our diverse offering of vinyl desk pads provides the perfect solution. Featuring a leather grain and matte finish, vinyl desk pads are similar in appearance to our leather options without the price to match.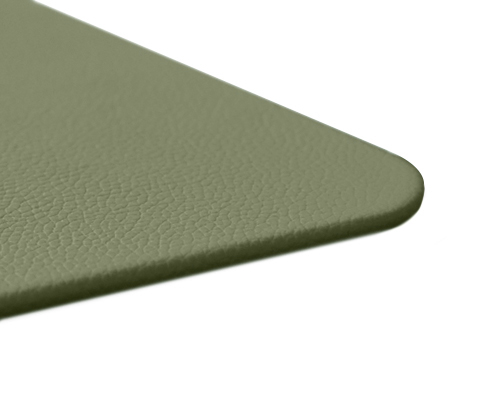 Functionality
Versatile and durable, vinyl desk pads are easy and comfortable to use. They offer protection against scraping of your work surface while staying in place and holding up to everyday wear and tear.
Budget
Vinyl desk pads offer a resilient and flexible, cost-efficient alternative to leather for your workspace needs. Not only does vinyl provide a reduction in cost, but it is also highly durable, saving you money over time. Representing a mid-range price point, vinyl options provide a middle-of-the-road cost that ensures no level of quality is sacrificed.
Style
If you're looking for an elegant pop of color in your workspace, linoleum desk pads are the right option for you. Offered in both black and burgundy, featuring a low-light reflective surface with a matte finish, this option provides a fun opportunity to add a pinch of flair to your workspace.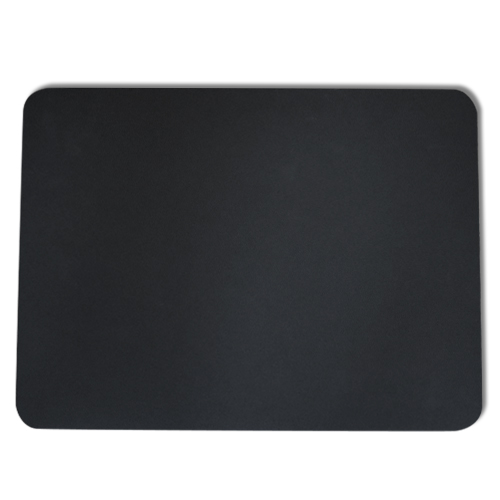 Functionality
Highly flexible and durable, linoleum is where style meets functionality. Boasting four layers of high quality, water-absorbent materials, linoleum desk pads provide a practical solution to everyday work life. Backed in faux suede, these desk pads are highly protective and slip-free, providing a streamlined work experience.
Budget
Our most cost-efficient material yet, linoleum desk pads ensure there is a desk pad for everyone. Due to its four-layer construction, linoleum offers a highly efficient solution to your desk protection needs. Keeping your surface safe from scratches, spills, and any other number of mishaps, linoleum's durability saves you money and time. This guide provides an in-depth look at our high-quality offerings of desk pad materials and the benefits of each. We believe there is a perfect desk pad product for everyone and look forward to assisting you in the development of your workspace.