So, you've decided to order a desk pad and you already know exactly what you want. You've chosen the material, the color, and customized it to your liking. But wait, you forgot the most important part – the size!
Finding the right desk pad can be tricky. Whether you are shopping for your own office, looking to dress up a conference room table, or need full coverage protection for a heavily used space, there is a desk pad size to fit your needs perfectly. We've compiled a list of our most popular sizes, along with common uses for each to help you decide which one would be ideal for your space.
Before looking at any specific desk pad dimensions, you should first measure the space you need a desk pad for and take into consideration how much you want to cover versus how much you want to remain bare.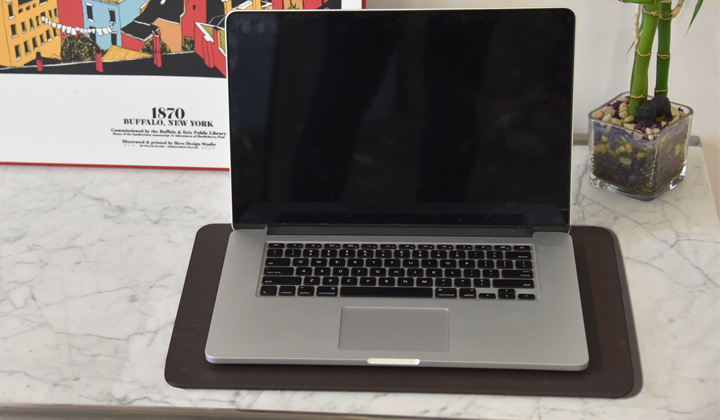 The 12×16 inch desk pad is our smallest size and is most commonly used for boardrooms and conference room tables. It's the perfect fit for all meeting essentials – a notebook, pen, and coffee cup – and the meeting pastries that come with it, of course. Several of these desk pads can comfortably fit along a conference room table, providing meeting members with a dedicated place to write or type notes on their laptop. They're also great for protecting the conference table from scratches, stains, pen marks, heat, or accidental spills. A set of 12×16" desk pads will keep your conference table in pristine condition for years to come!
This minimalist size can also be used on your own office desk as a place to keep important papers or office supplies that may scratch your desk surface. You will still be left with plenty of bare desk space if you only need this small amount of coverage.
IS THE 12×16" DESK PAD RIGHT FOR YOU?
Offers a decorative and functional place setting for conference tables

Great for small workspaces or minimal coverage needs

Protects surfaces from scratches, spills, and other damage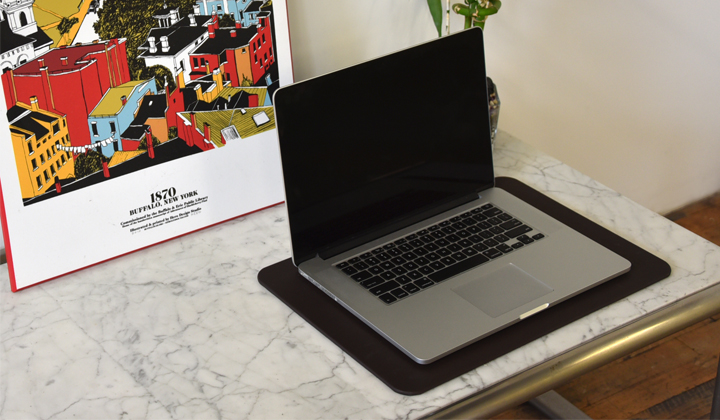 Slightly larger than our smallest size is the 12×18 inch desk pad. This size is great for a wide range of uses from desk pads to dining placemats!
If you're shopping for the office, this size is ideal for smaller sized desks or shared workspaces, common in open office plans. This space saving size allows you to fit a notebook for writing or a laptop for typing all the while protecting your desk surface from pen marks and heat damage from your laptop.
The 12×18" desk pad is also suitable for a wide variety of uses in the home. This desk pad can be the dedicated place to take care of everyday activities like opening mail, writing bills, and filling out checks. This will ensure that items don't pile up or get misplaced around the house while also avoiding nicks and scrapes on tables and countertops. Choose a traditional or fun color to blend in with the room's existing theme or add a bold accent.
Other creative desk pad owners like to use this size as a placemat for the dinner table. Dining room tables can be expensive – a leather placement will not only maintain the elegance of the table, but it will also protect it from heat, water stains, and food spills. With more than enough room for a plate and cutlery, the 12×18 inch pad can act as an exquisite accent to any place setting.
IS THE 12×18" DESK PAD RIGHT FOR YOU?
Space saving size for limited or shared workspaces

Decorative and functional in both the office and home

The ideal size to act as a dining table placemat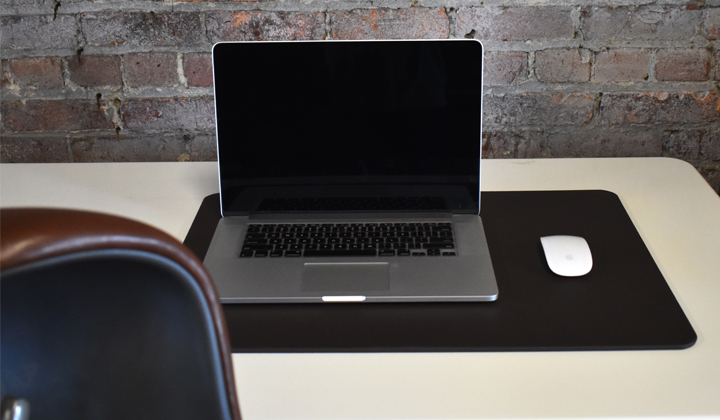 The 18×24 inch desk pad is the most common size used for the average desk. Unlike the smaller sized desk pads, this desk protector can fit a keyboard along with a desktop computer to protect the surface from scratches caused by slight keyboard movements. It's the perfect size to fit the necessities of a personal workspace without taking up any extra room.
The 18×24 inch desk pad has the versatility to be used on multiple surfaces and locations, such as an office desk, personal desk at home, or a dorm room. With a wide variety of materials and colors available, these desk pads can be used to punch up the decor of any room that it's placed in. Since this size is frequently used for personal work spaces, many desk pad owners like to add custom embossing to make it an even more personalized gift or addition to their own home or office.
IS THE 18×24" DESK PAD RIGHT FOR YOU?
Ideal size for average sized desks in offices, homes, and dorm rooms

Fits a desktop computer, keyboard, and mouse

Great to give as a gift with custom name or logo embossing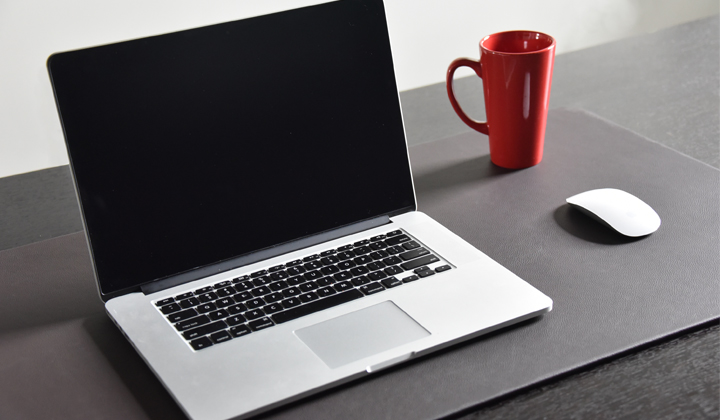 So far, all of the desk pads we've introduced fit a variety of necessary work items without taking up too much extra space. If you're looking for a size that goes beyond the basics and fits some desk accessories along with your computer or laptop, the 20×34 inch size is for you. This desk pad will offer coverage to fit all of your electronics and writing materials with space to also fit your coffee cup, a small plant, or any other materials you want to protect your desk from.
The 20×34" desk pad has also been used in waiting rooms and on reception desks. Since the waiting area of an office is one of the first areas that prospective clients or employees see, office managers know how important it is to make a good first impression in these rooms. Set an elegant leather or faux leather desk pad on the waiting room table and top it with aesthetically pleasing catalogs or books to create an impressive place for guests to wait. It will also prevent fingerprint smudges on glass table surface and scratches on wood, making it effortless to keep your waiting room clean and organized.
Moving to the reception area of the waiting room, these desk pads can be placed on the reception desk to offer guests a comfortable place to check-in and handle payments. Simple touches like this will leave a positive impression on your clients and guests, encouraging them to keep coming back to your office. When used in these areas, custom embossing with the business name or logo will keep branding present and consistent throughout your office.
IS THE 20×34" DESK PAD RIGHT FOR YOU?
Larger size fits more than just the essential desk materials

Protects and adds elegance to waiting room tables

Comfortable for reception desks where guests check in, sign papers or handle payments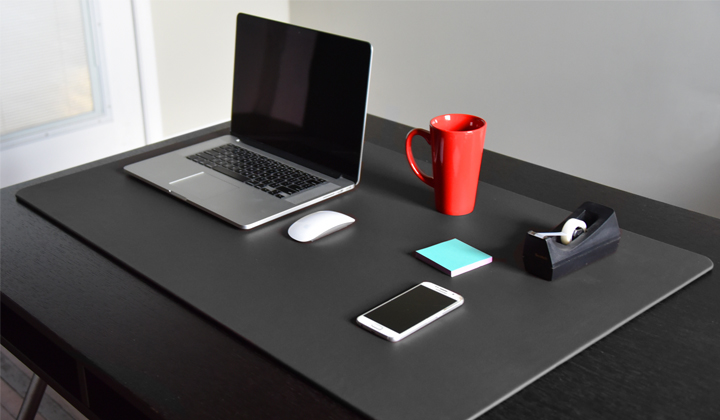 The 24×38 inch desk pad is our largest of the most popular sizes, offering full coverage for a workspace. Appropriate for use cases in the office, workshops, and beyond, this desk pad will provide total protection to the surface it's being used on.
At the office, you won't have to worry about everyday wear and tear affecting your desk. This desk pad will fit a computer monitor, keyboard, paperwork, and still offer plenty of extra space for other desk accessories and decor items. These large desk pads are also a lower cost solution to achieving a different look in your office without having to purchase a completely new piece of furniture. Find this desk pad in any material and color to easily switch up your theme.
The 24×38" desk pad is great for the home, too. If you have a surface that you use for DIY or home improvement projects, many desk pad owners love this size to cover their craft desk or workbench. It keeps paint, hot glue, and scratches from nails, screws, and other tools at bay when working. Materials such as linoleum or vinyl are a great choice for such spaces as they're cost effective and can be more frequently replaced from the abuse that they'll take from working and crafting.
IS THE 24×38" DESK PAD RIGHT FOR YOU?
Offers full coverage for large work areas

Great for workbenches and craft desks

Cost-effective solution to revamping the decor of a room
Ready To Shop?
We hope this guide made it a little easier for you to navigate the world of desk pad sizes and will help you choose the right dimensions to fit your space and needs. Take a look at the desk pad sizes we talked about in various materials and colors:
If you liked any ideas from this article but don't think the specific size will fit your surface, we can alter the shape and size of any desk pad to completely conform to the size you need. Just send us a message!