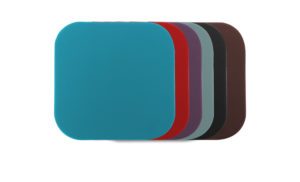 Genuine leather promotional gifts from Prestige Office Accessories make a great impression when used as giveaways for customers, clients, employees, fans and supporters.   
Are you searching for leather promotional gifts that will make an excellent impression on your customers?  Well, your search has ended here.   Prestige leather promotional gifts are elegant and practical.  These are truly functional accessories.  They are made of full-grain leather, and available in a variety of color-rich options.  We promise…these aren't your typical promotional items!  They are handcrafted in the U.S.A. with quality materials.
Want to make a good "impression"?  Consider having the leather promotional gifts stamped with a company logo to create a striking presentation.  Options include blind embossing (logo pressed into leather with no color), or foil embossing (logo pressed into leather with gold or silver foil).  For either option, add $70 for a plate fee, plus 50 cents per item, to the base price.   (The plate fee is a one-time charge—we'll save the plate for your next order).
Take a look at these leather promotional gift ideas:
leather pen case: 
A handsome choice to protect your cherished writing instrument!  A simple sheath, the leather pen case is designed to hold and protect your favorite pen.   The leather pen case serves as an attractive desk-top accessory, or nifty carrying case that is easy to find in a purse or brief case.  Either way, it will be handy to jot a note.  The pen sleeve measures 6" x 1.5" and can even make your trusty stick pen look special.
leather coasters: 
These useful coasters are made of luxurious, full-grain leather.  The coasters combine beauty and function and will help to protect your office furniture.  Generously sized at 4.5 inches square, with rounded corners.  They will probably not hurt a co-worker if they happen to fly over a cubical wall during an afternoon Frisbee free-for-all.
leather cell phone case:
Now here's a handsome slip case to protect your beloved cell phone.  Attractive yet functional, the leather cell phone case will guard your device from bothersome scratches and even wandering eyes.  It is available in many sizes, to fit a variety of smart phones styles.  No plastic here…treat yourself to an upgrade made of full-grain leather.  Features detailed top stitching and is available in a variety of colors.
leather pouch:
What little treasures do you possess that need protection and safe storage?  How about this intriguing leather pouch? The pouch is made of genuine leather, features top stitching and a leather tie.  Add your logo to our pouch for a classy way to package your marketing promotion. It's the perfect satchel to hold prayer beads or keep Grandpa's pocket watch safe.  Or, corral loose items like golf tees, poker chips, coins, or a collection of stones.  Here's hoping you'll never lose your marbles again!
We know you'll be impressed with these leather promotional gifts…more importantly, so will your customers!