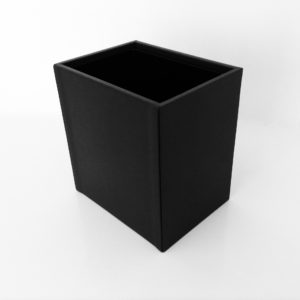 Looking for distinctive wastebaskets that will deliver authority and luxury? Then consider wastebaskets from Prestige Office Accessories. They are guaranteed to complete your office décor where style and elegance is concerned. Our wastebaskets are designed with the intention of accentuating your office surroundings while also providing practical functionality. In addition to that, many plastic baskets are self-extinguishing a feature that is not evident in many wastebaskets. Other styles available:
Matte black steel
Brass with satin finish
Brushed stainless steel
Rectangular genuine leather wastebasket
Plastic
You will be able to create a sanitary and professional office atmosphere which in turn speaks volumes when observed by an outsider. They will not only apply to people stationed at their desks but also to areas where people congregate such as the lobby, meeting rooms or lounge. All wastebaskets are easy to maintain and also come at affordable prices. The materials used to make them are of high quality , because Prestige Office Accessories prides itself on giving their clients value for their money.
We also offer the best customer service to its clients  upon ordering They will be delivered timely and are guaranteed to transform your office area into an impressive one!So for all the trash that your office generates, consider wastebaskets from Prestige Office Accessories and you will be glad that you did!