Kicking off the three-part series introducing our selection of desk pad materials and how to choose the right one, today's blog discusses everything you need to know about linoleum desk pads. Over the next three months, this blog post series on different desk pad materials will help you understand and decide which product is right for you to implement into your work-life flow. Below is an outline of all the benefits that linoleum desk pads offer and how they can enhance your life.
Style
Whether you are looking to add a pop of color to your workspace or the sophistication of matte black, the clean look of a linoleum desk pad can enhance your environment in numerous ways. A stylish and professional work-space aesthetic is known to improve productivity and mental clarity, making our sleek black, custom-crafted linoleum desk pad an excellent option for anyone looking to improve their workflow and organization.
The sharp style of linoleum lends itself to simple efficiency, and the matte, low-light reflective surface serves as a practical surface with a subtle pop of color. Naturally sourced, the elegance of linoleum provides a soft, fine texture, contributing an overall warmth and comfort to your space.
Budget
Perhaps its most ideal trait, the linoleum desk pad is wonderfully affordable. With no sacrifice in quality, the price point of our linoleum desk pads provides a workspace solution for all types of budgets. Due to their resilient surface, linoleum desk pads save money over time as they stand up to spills, scrapes, and general wear-and-tear, preventing you from purchasing replacements.
Linoleum desk pads consist of leftover industry waste materials and abundant natural resources, making them eco-friendly and more affordable at the same time. Made from all-natural and biodegradable materials, linoleum desk pads provide luxury for less, adding charm and elegance to your space without breaking the bank.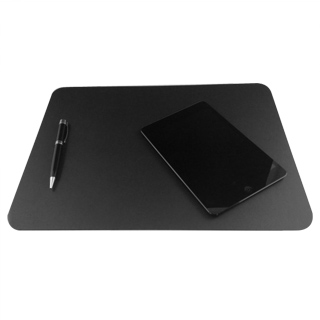 Easy to Clean & Antimicrobial
Now more than ever, many people are concerned with the cleanliness of their workspace. With its low porosity surface and smooth texture, linoleum is extremely easy to wipe down and keep clean. Naturally antimicrobial, linoleum does not absorb anything on its surface, making it an extremely hygienic option. This quality makes linoleum an ideal material for work from home use, as accidents may be more prone to happen with additional people present in your workspace. Linoleum desk pads are also a solid choice for students, providing an easy to clean, difficult to damage surface to encourage productivity.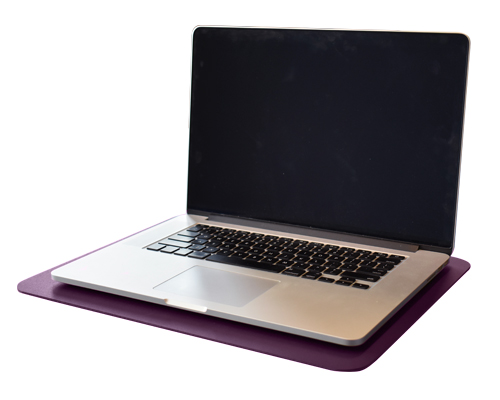 Eco-Friendly & Non-toxic
Boasting a materials list of naturally sourced, biodegradable ingredients, linoleum is an excellent option for those concerned about their health and the environment. Linoleum is created from raw materials obtained from their natural habitat, where they grow and renew, often in just twelve months' time. Composed of flax, rosin, wood flour, and limestone, our linoleum desk pads are made using only abundant natural resources, making them earth-friendly and non-toxic.
Flax is an annual crop, regularly harvested just like wheat or corn. This makes flax an abundant resource, both affordable and safe to use. Similarly, rosin extraction is a continuous process. Derived from European production forests, wood flour is a waste product left over from the timber industry, contributing to the affordability of linoleum. Limestone is available in abundance as well. Our ingredients take more CO2 from the air than the production process requires, making linoleum the most sustainable choice.
In total, linoleum provides a practical solution for those wishing to adhere to a budget without harming the environment or being exposed to toxic chemicals. Linoleum desk pads meet the needs of so many, having useful applications in home, office, and commercial spaces.